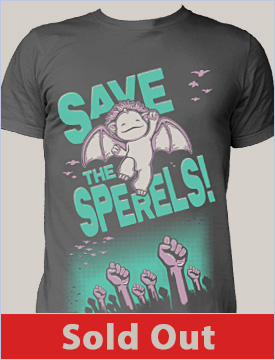 Reclaim The Sky!
Where there is open space, there is room to fly. Sperels, rise up and take to the sky!
In defiance of drudgery, the sperels seek to define their own purpose. What better way for them to show their intent than through the power of their own wings? Yet their flight is not achieved without our support, and so we carry forth with our chant of sperel salvation!
A fist in the air to 'Save The Sperels!' A fist in the air for purposeful flight!
Price: $22.00
+ shipping
Checkout will proceed through PayPal